IN JUNE 2022 I DECIDED TO REBUILD my personal webpage, but when I got to work I saw my old webpages were broken! In August 2006, the summer after graduating high school before college, I wrote a Dvorak touch typing tutor in Flash. I learned in 2022 Flash is completely dead; being a sentimental person I decided to take a few days to re-write it in Javascript and added some cool features while I was at it.
Next I looked at this old mandatory blog I wrote in college while overseas in Croatia, and found out that it was also broken! 2008 versions of MySQL and Wordpress were failing: limited comment security lead to thousands of comments and the layout wasn't loading at all. I'm a sentimental guy so I figured I'd take a few days to restore it.
I used Archive.org to rebuild the original faithfully. but it looked pretty dated, especially with the raster/bitmap text in the header.
These are the things I changed:
Content changes in text:

Prelude/Afterward entries are added in 2022
Addendum boxes- additional information and corrections added to some posts, in specially marked and dated "addendum boxes"
Post on June 20, 2008 - deleted duplicate photo/caption with caption 'Food between Mostar and Sarajevo'
Besides for those differences, all text is exactly the same as original blog.

Changes in photographs:

Almost all photos are larger and higher resolution with slightly better color.
Post on April 4, 2008 - Signficantly improved colors on 1 photo with caption: 'An HDR shot of an old lady I found walking down this really interesting road by the salt mine in Ston'. Click images to see originals.
Post on May 8, 2008 - Signficantly improved colors on 3 photos with captions: 'HDR shot I took without my tripod', 'River outside the salt mine in stone' and 'Road leading to the salt mine'. Click images to see originals.
All other photographs are identical to 2008 blog.

Blog entries order reversed, reads from beginning to end.
Spam comments and tags removed.
Some dead links now point to Archive.org, GregK's link in About page updated to working blog link from around the same time period
Host photos on local server instead of from Flickr, in case Flickr disappears one day.
Blog is now a simple static HTML page, rather than a Wordpress website. 2008 versions of Wordpress, PHP and MySQL are no longer supported, and a 2022 Wordpress will have the same issue again someday, but static HTML and CSS should require no future maintance.
Font of entire blog now Vollkorn. Font for whole blog is larger than original.
Links are now green because I liked the way it looks better
Changed title of original 'Preface' to "Introduction"
Wrote different CSS for mobile, so this page works better on mobile now (way overkill)
Header updated to look modern on high resolution displays:

Found Vollkorn font, which resembles original font in bitmap header text, and embedded it.
Replaced original bitmap title, random text and header links with Vollkorn text in 2022 version.
Found Floralia font, whose symbols matches decorations in original header very closely. I used this font to create a new 300dpi version of the decoration, which should look sharp for the foreseeable future.
Added links for Stacy and Ian, something I've been meaning to do since I was in Croatia.
Got rid of archive (useless Wordpress artifact) and renamed Photo link
Added a link to this page
Mouse over or tap the image below to compare the original 2008 header with the 2022 header.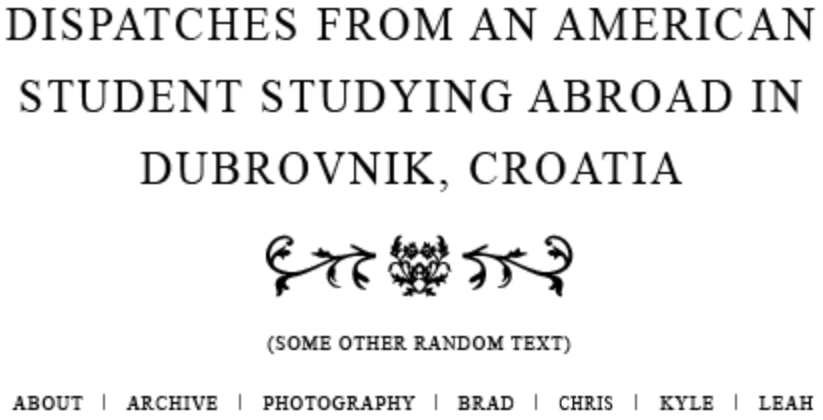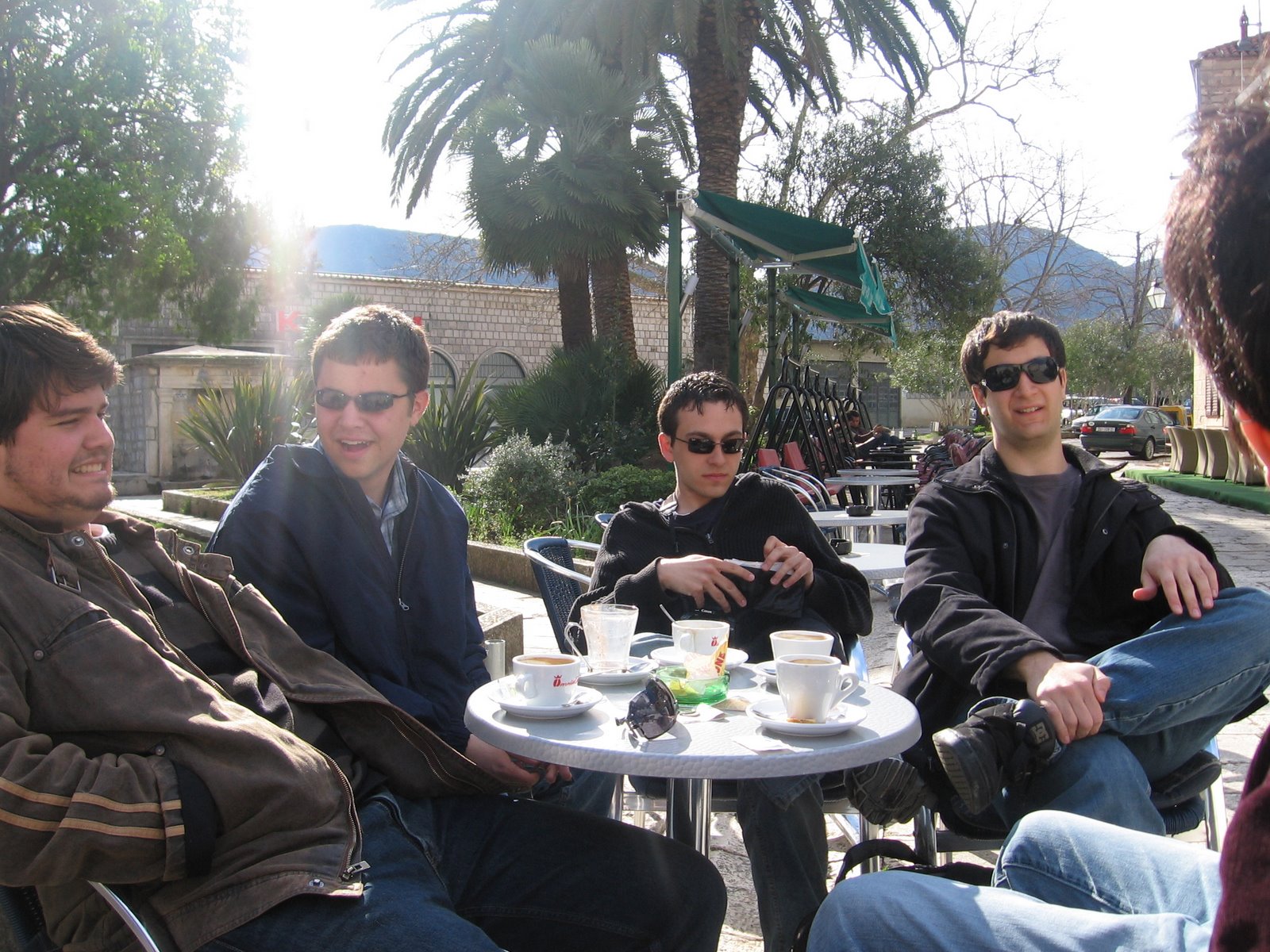 Photo of Teo, Kyle, me and Chris by Stacy, taken March 2008
I don't look like this anymore.